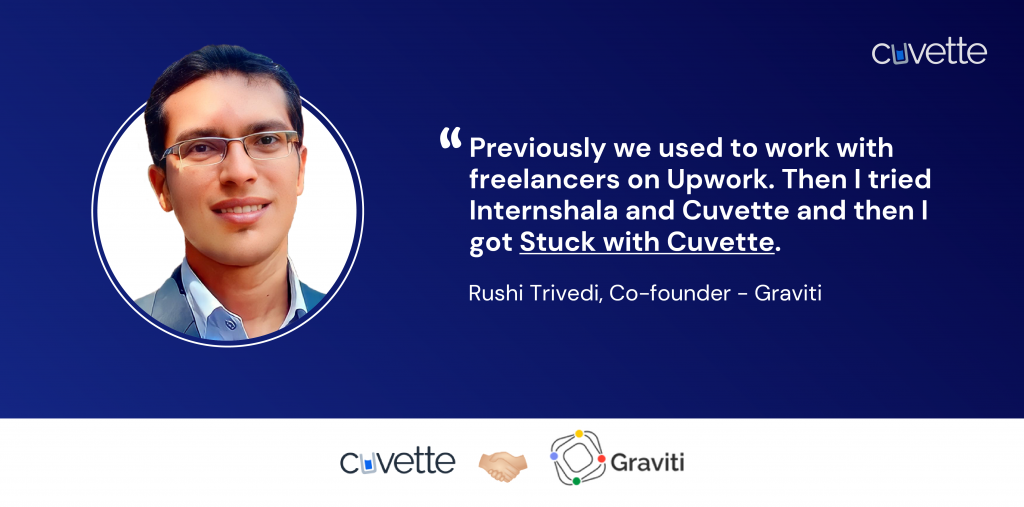 We got a chance to have a discussion with Rushi, who is the founder of Graviti. He has been using Cuvette for a long time now and has hired 15 interns from our platform in total. Sharing the inputs which we got from him.
Q. Your introduction?
Hi, I'm Rushi, Founder of Graviti and we are basically trying to automate the logistics processes of manufacturing companies. If you look at the logistics market right now, it's like a very scattered and fragmented piece. Companies typically have SAP and ERP systems for internal use. But external vendors like the transporters don't have a single platform on which everyone can collaborate. We are basically building a platform on which every one of them can collaborate and work together.
Q. How did you come to know about us?
I read about it on Quora. We were planning to hire interns. I think Internshala is the first name that comes to your mind when you start to plan. I was just searching and one of the students mentioned on Quora that he got a very good opportunity. That's how I came to know about it. And I compared the experiences of Internshala and Cuvette. Cuvette was much smoother than Internshala and so I just left using Internshala altogether.
Q. How was your overall experience with Cuvette in hiring interns?
It is really good. It's much smoother than what's happening and it is improving day by day. So it has been really good.
Q. How different we are as compared to any other platform you use?
Honestly, I haven't used a lot of platforms. Previously we used to work with freelancers on Upwork. Then I tried Internshala and Cuvette and then I got stuck with Cuvette. So Upwork was really good. We worked with Upwork for some time. I mean, Upwork is smooth in terms of doing cross-sea payments and in terms of ensuring that work happens. Like freelancers typically work and time is recorded in a good way. So Upwork is really good in that part. But it's not a good feature for Cuvette because on Cuvette we are just working with interns directly. It's not a platform on which freelancers are there.
Q. Any specific feature which you like the most on our platform?
I like the platform chatting feature, which is like a real-time chat. I like this Google Calendar integration that you have done, which makes it seamless for us. And I like the bulk message feature.
Q. So what is your hiring process? When you get profiles from Cuvette, what are the rounds which you take and why do you take those rounds?
The hiring process just keeps on evolving. But the current hiring process that I'm following is that I am shortlisting the candidates by looking at the profile. To all the shortlisted candidates, I just send a bulk message which contains an assignment if possible. If the assignment is completed as expected, then I send them a calendar link to book an appointment slot, which is why I asked you for the calendar integration, like the reverse calendar integration than what you have done.
So I send them a calendar link, they book my calendar slot, and I take an interview round. Like, the first round is more about the softer parts of the intern in terms of their attitude, their curiosity, their availability, the obstacles, and how they face all those typical things. And one small test about whether they think logically or not? If they are good in all of those areas, then we typically go for a detailed technical round, which is a second round in which multiple other people from my team join. If the second round also goes well, then we just send them an offer letter.
Q. As you have hired a lot of interns from Cuvette, there are many companies who say why should we hire Interns? So why do you hire Interns? How they are useful to you and how is the work allocated to them, under whom do they work, how they are managed in your company?
The work is allocated to them based on the skills that they have. So if they are front end or back end of full stack, what skills do they have? They are typically managed by Ankit, who is my technical partner, and looks the entire development process. And the reason we are hiring interns is that if you get really good guys, it's like a good ROI. The amount you spend on an intern vs on a full-time employee, there's a huge difference in that. That's number one.
One of the key reasons we are looking at hiring interns is we are hiring them in their third year or second year or maybe before that, like 1st, 2nd, or 3rd year and not the final year. If they stay for us, we are looking if they can stay with us for a longer time, and then maybe if the chemistry works between them and us, and if we go to a larger extent, we will convert those people to like full-time job opportunities. So it's typically to identify good talents earlier, who have good attitude also. It's like a really small investment. Before hiring interns, I tried hiring freshers from, I think Hirect. I was speaking with a lot of freshers on that platform. But the experience was that the mindset is typical of job hopping on Hirect especially. The candidate is just trying to do a lot of job hopping. Wherever they get a good opportunity, they're just going to flip over there. It's not that it doesn't happen with interns, but then the amount that you lose if the intern is doing that kind of job hopping is very less as compared to when the fresher does that job. 
Q. Would you like to recommend our platform to others?
I have been recommending your platform without asking. I'm just recommending them.
Thanks a lot Rushi for sharing your views on our platform. We are really glad that you found our platform useful and have been able to hire interns smoothly.
If you are also looking to hire Interns, do post it on our platform from here
Watch the complete discussion from here //youtu.be/lQmyLDda5Qg